Agricultural & Fence Products
We Manufacture a wide variety of fencing products.
Chain Link Fencing
Residential and commercial chain link is one of the most cost-effective ways to secure your property. We stock traditional galvanized and the more popular color-coated chain link products in 36", 48", 60", and 72" high. We specialize in special order tall security fencing to meet all government specifications, including non-climbable mesh sizes as small as 3/8". Most chain link available in stock ranges from 11-1/2 gauge to 9 gauge. If you're a do-it-yourself kind of person, we also sell individual parts to the public. From posts, rails, and fittings; our knowledgeable sales staff will help put together a kit that makes your weekend warrior project much easier on you.
Corral Panels
All of our corral panels are 5′ tall and come in 12′ or 16′ lengths. Each panel comes with two-panel clamps, and they simply clamp together. We have galvanized and uncoated black steel. Our corral panels have straight legs and sit on top of the ground. They do not need to be concreted into the ground. Our galvanized panels are made with 1-5/8″ OD 16ga pipe for the posts and rails. Our uncoated black steel panels are made with heavy S40 pipe, 1-3/8" OD pipe for rails, and 1-5/8" OD pipe for posts.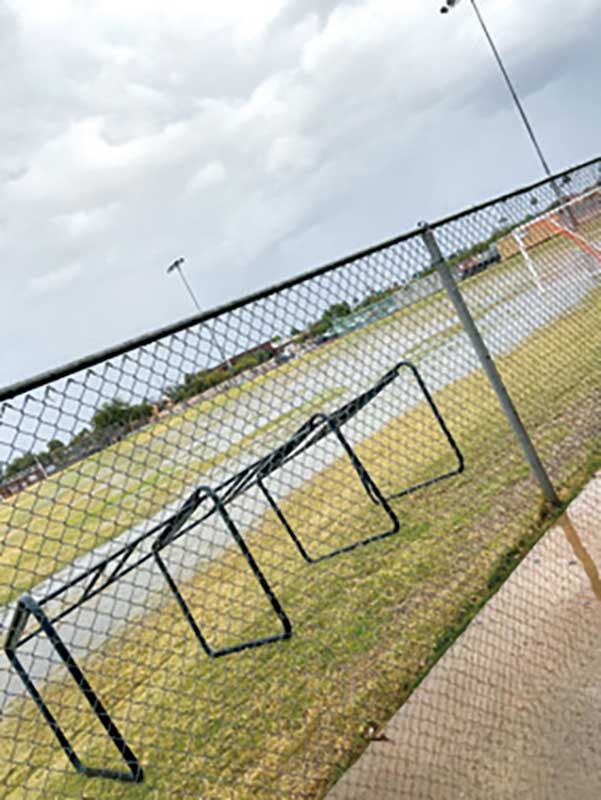 Sizes:
BLK Corral Panel 12' x 5' Tall x 5 Rails
BLK Corral Panel Gate 12' x 5' Tall x 5 Rails
BLK Corral Panel 16' x 5' Tall x 5 Rails
BLK Corral Panel Gate 16' x 5' Tall x 5 Rails
GALV Corral Panel 12' x 5' Tall x 3 Rails
GALV Corral Panel Gate 12' x 5' Tall x 3 Rails
GALV Corral Panel 12' x 5' Tall x 4 Rails
GALV Corral Panel Gate 12' x 5' Tall x 4 Rails
GALV Corral Panel 16' x 5' Tall x 3 Rails
GALV Corral Panel Gate 16' x 5' Tall x 3 Rails
GALV Corral Panel 16' x 5' Tall x 4 Rails
GALV Corral Panel Gate 16' x 5' Tall x 4 Rails
Del Mar Panels
Del Mar panels are similar to non-climb fencing with spacing being 2" Wide X 4" Tall from top to bottom but differentiate since they are constructed from 6 Ga wire and are welded at the joints verses the woven construction of non-climb. These panels are ideal for livestock containment and are a great addition to any fence line, horse panel, and garden trellises. All Livestock Panels Offered in Galvanized Only.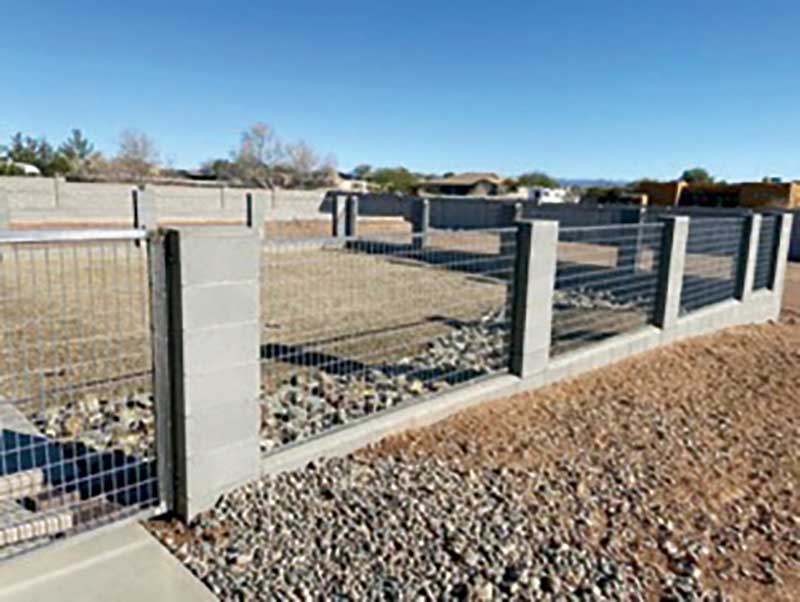 Sizes:
4' Tall x 12' Long
4' Tall x 20' Long
5' Tall x 16' Long
5' Tall x 20' Long
6' Tall x 20' Long
Non-Climb Fencing
This great woven fence wire is constructed of high-quality 12.5ga wrapped wire with a 10ga top and bottom wire making it ideal for stretching over flat, hilly or uneven terrain. This fence is available in galvanized steel, and we have recently added black-coated steel as well. The space openings are 2" wide by 4" tall. Its narrow mesh pattern is designed to prevent any hoofed animal from stepping down or walking through the fence. It is sure to keep your animals in and predators or other unwanted animals out! This fence is perfect for backyards, arenas, and anything from horses to dogs.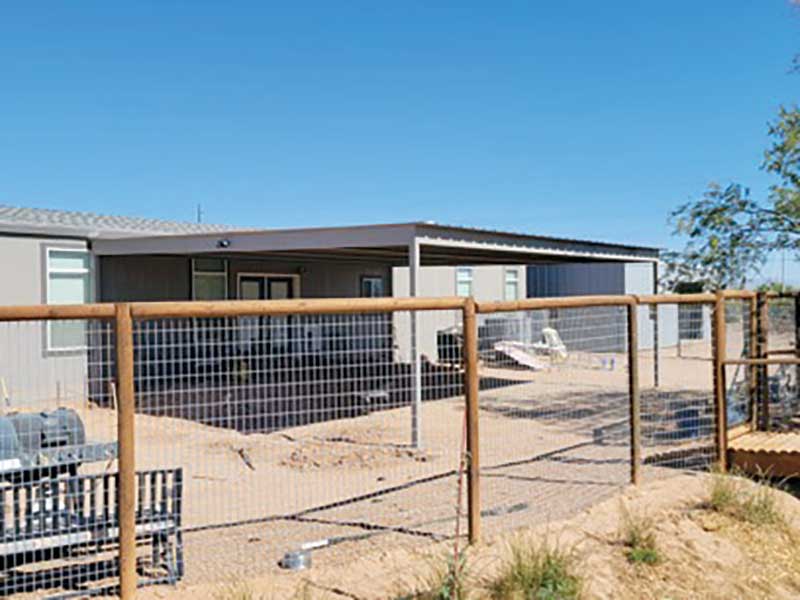 Sizes
4' Tall x 100' Long
4' Tall x 200' Long
5' Tall x 100' Long
5' Tall x 200' Long
6' Tall x 100' Long
6' Tall x 200' Long
Hardware
We offer a variety of hardware and fittings such as eye tops, sleeves, wire ties, tension wire, gate hardware, domed ball caps PS, hook ties, fork latch, tension bands, tension bar, brace bands, rail ends, indus-trial hinges, privacy slats, privacy windscreen, barbwire, razor wire, and much more!
Dog Runs
Our enclosure runs are perhaps the best in the industry, as they are constructed in a manner that prevents even the most daring of pets to escape. These runs are constructed of 1-3/8" galvanized pipe and stretched in 11.5-gauge chain link, which is continuously sewn around the entire framework with galvanized wire. Our framework is also fully welded into place and our gate panels feature a built-in gate with a non-flip latch. They are based on a modular design, making them expandable at any point in time. Our panels come fully assembled, enabling quick installation with 1-3/8'' clamp sets.
Standard Dog Run sizes: 6'x6', 6'x12', and 6'x10'.
Wrought Iron
Wrought Iron Security Fence and Pool Fence
Wrought iron fences are great for securing and enclosing residential or commercial areas. Wrought iron fences are durable and low maintenance when compared to a wood fence. These are also perfect for keeping unwanted animals out with the option of customizing your panels or gates. We form our own spears to add a better look while protecting your area. LP Steel is also able to install and paint your panels with a requested color of your choice.
Welded Rail
PASTURE PANELS AND GATES

SADDLE RACKS
We offer heavy-duty steel saddle racks to display and support a saddle when it is not on your horse. We have 1 TIER, 2 TIER, and 3 TIER available for purchase.
WASH RACKS
Brand New Steel Wash Racks are perfect for all of your livestock grooming needs.
HITCHING POSTS
We fabricate heavy-duty steel hitching posts for your horses or animal. Restrain your horses for a short period of time to keep them from straying. We offer different sizes in raw uncoated black steel or galvanized steel.
Sizes
HITCHING POST – BLK 4' X 10' X 2-7/8' SCH 40
HITCHING POST – BLK 4' X 10' X 4-1/2' SCH 10
HITCHING POST – GALV 4' X 10' X 2-7/8' SCH 20
HITCHING POST – GALV 4' X 10' X 2-7/8' SCH 40
HITCHING POST – GALV 4' X 10' X 4'' SCH 40